A Taste of Your Local Watering Hole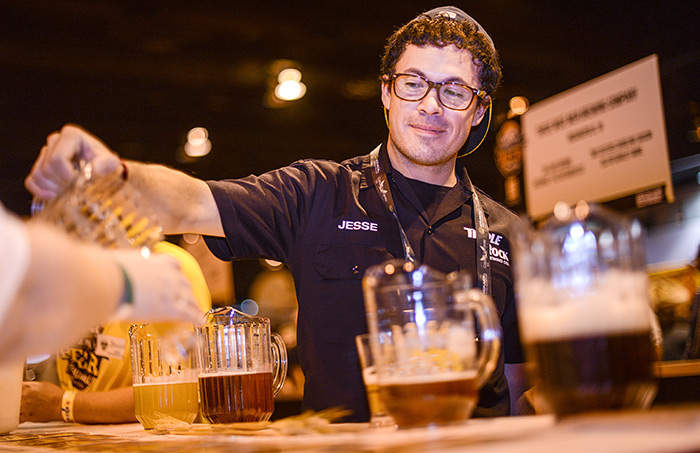 Have you visited your local brewpub lately? It should be pretty easy to find one—more than 40 percent of the more than 3,000 U.S. breweries are considered brewpubs! To celebrate this growing tradition of locally brewed beers enjoyed straight from the source, the Great American Beer Festival features a Brewpub Pavilion located in the central area of the festival hall, featuring 36 breweries representing all regions of the country.
This year's Brewpub Pavilion is redesigned to create an improved flow and offer the atmosphere that craft beer enthusiasts enjoy, including a looping slideshow of brewpub photos from around the country and small bites available for purchase. Drop by and have a taste!
2014 Brewpub Pavilion Breweries
*Subject to change
23rd Street Brewery
Apple Blossom Brewing Company
Black Sky Brewery
Black Star Co-op Pub and Brewery
Blue Corn Cafe and Brewery
Canteen Brew House
Carolina Brewery
Carver Brewing Company
CH Evans Brewing Co
Chama River Brewing Co.
Cool Springs Brewery
Coopersmith's Pub and Brewing
FATE Brewing Company
Front Street Brewery
Half Moon Bay Brewing Company
High Noon Saloon & Brewery
Infusion Brewing Co
Iron Springs Pub & Brewery
Kirkwood Station Brewing Co
Kokopelli Beer Company
Kootenai River Brewing Company
Ladyface Ale Companie
Max Lager's Wood-Fired Grill & Brewery
North Mountain Brewing Company
Northwoods Brewing Corp. LLC
Old Rail Brewing Co
Pagosa Brewing & Grill
Pig Minds Brewing Co.
Taos Mesa Brewing
The Brewer's Cabinet
The Cannon Brew Pub
Tomoka Brewery
Twin Peaks Brewing Company
West Flanders Brewing Co.
Wrecking Bar Brewpub
Yak & Yeti Brewpub