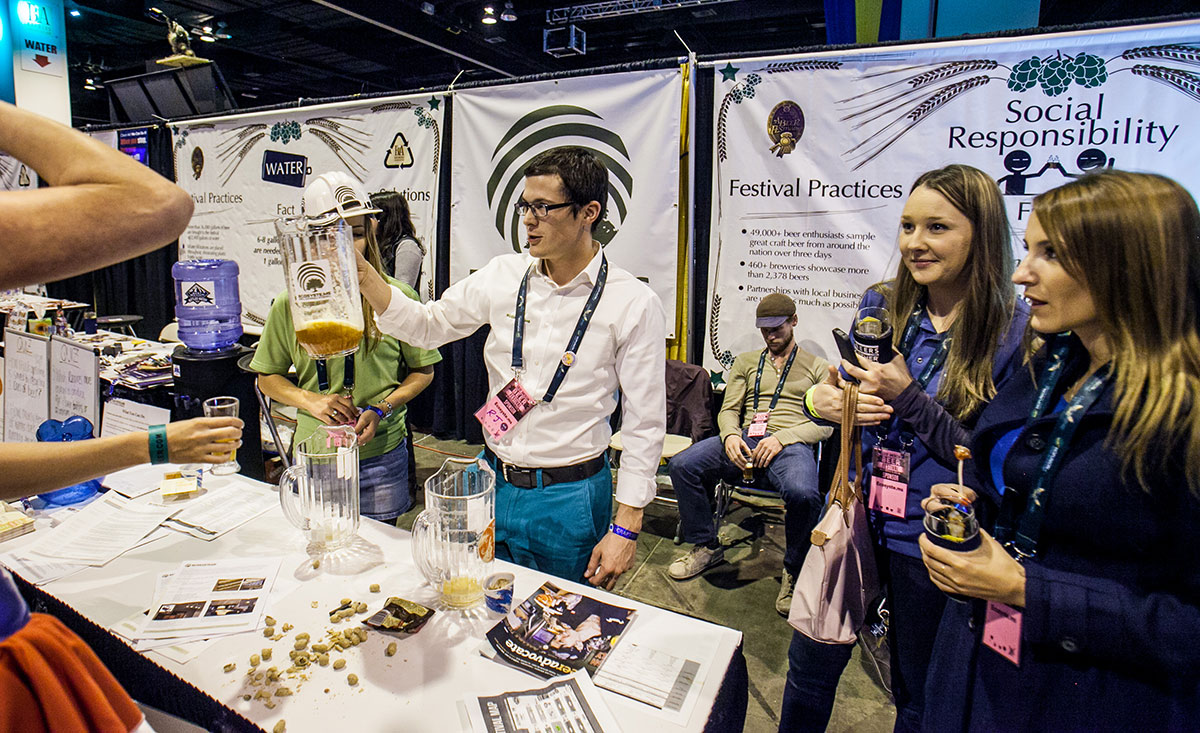 The Great American Beer Festival has partnered with ZeroHero, Ecosyste.ms and the Alliance for Sustainable Colorado to not only create a more sustainable festival, but to also educate on what is being done and what can be done to preserve our planet's limited resources.
Stop by to ask questions, learn green practices and collaborate with sustainable companies and brewery representatives featured in the Sustainability Pavilion.
Sustainability in Breweries
Stop by to chat with leading experts in the industry doing sustainable practices in their breweries. Find out what breweries are doing…how you can help…and get inspired through one-on-one conversations.
Sustainability Education in Water, Energy and Waste
The following companies will have interactive displays and educational materials in the Sustainability Pavilion:
Alliance for Sustainable Colorado
The Alliance for Sustainable Colorado transforms sustainability from vision to reality through demonstration and collaboration. They own and operate The Alliance Center, Colorado's Hub of Sustainability, which is a multi-tenant space for ALL. The Center allows a great space for organizations and individuals working on sustainability to dream, work and collaborate for the greater good.
American Rivers protects wild rivers, restores damaged rivers and conserves clean water for people and nature. Since 1973, American Rivers has protected and restored more than 150,000 miles of rivers through advocacy efforts, on-the-ground projects, and an annual America's Most Endangered Rivers® campaign.
BikeDenver is Denver's bicycle advocacy organization and the leading nonprofit to promote and encourage bicycling as an energy efficient, non-polluting, healthy and enjoyable transportation alternative in and around Denver. At their table, learn how cycling helps conserve energy, how to change a flat, and how to ride more safely!
Brendle Group is a sustainability consulting firm that leads by example, inspiring and empowering organizations to make thoughtful choices about the energy and resources they use, and create realistic roadmaps for sustainability. They leverage what their clients do well with their desire to do more for people, profit and planet.
The Colorado Green Building Guild is a non-profit trade organization representing a wide range of green building leaders. Their mission is to create and support community-focused networks of building professionals and local governments in order to: share knowledge, increase business opportunities, support a clean energy economy, and make sustainable building common practices.
Eco-Cycle, one of the largest nonprofit recycling centers in the USA, will show individuals, businesses, and brewers everywhere how to increase recycling, decrease waste, and build and live more sustainably.
The Ecosyste.ms team works with small commercial buildings to help increase energy efficiency and sustainable business practices. At the event, the team will be displaying various energy efficiency solutions that can be used at home, in offices or brewing operations (e.g., lighting, clean power generators, HVAC solutions and more). There will be fun facts, trivia and games to help educate and engage all attendees.
Green Garage is a full service, eco-friendly auto repair shop. At their table, they will be demonstrating the importance of recycling motor oil and the destruction caused when you don't.
Ethos designs landscapes holistically, using nature to solve man-made problems. They know that function and aesthetics are equally important and that healthy soil and conscientious water use are vital to the health of the space. Swing by to find out just how much potable drinking water is used in the landscape.
Sierra Club, Rocky Mountain Chapter
The Denver Metro Network of the Sierra Club represents and serves the needs of Sierra Club members and local residents in the Denver, Colorado metro area. They'll be playing conservation trivia focusing on the local campaigns the DMN is pursuing in the Denver area.
Water for Colorado is a collaborative effort amongst many of the state's leading conservation organizations to promote water conservation and river protection in the state's first water plan. WaterForColorado.org is an online hub to learn about the water plan and take action to ensure we protect Colorado's rivers in the process.
WildEarth Guardians works to protect and restore the wildlife, wild places, wild rivers and health of the American West. Through their Climate and Energy Program, they're confronting global warming by exposing the real cost of fossil fuels and opening the door for clean energy to flourish.