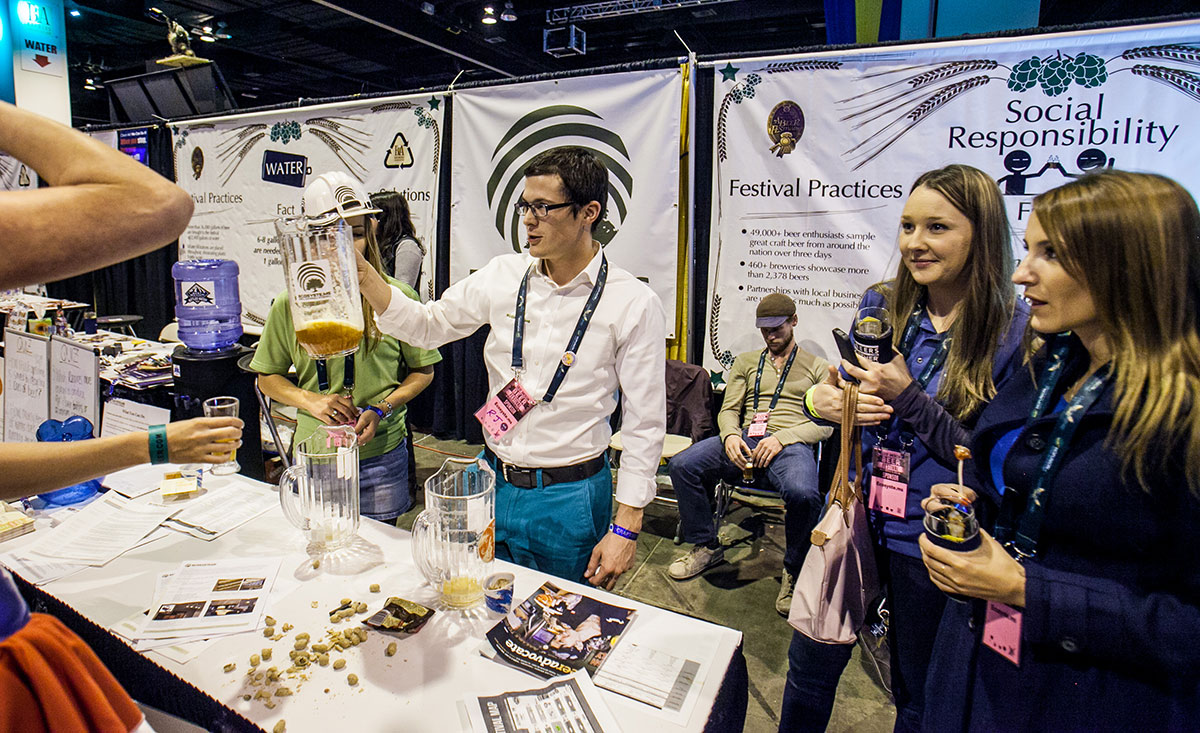 Attendees are encouraged offset carbon to and from the festival by calculating your footprint and offsetting through the Colorado Carbon Fund.
The Great American Beer Festival has partnered with Ecosyste.ms and ZeroHero to not only create a more sustainable Festival, but to also showcase sustainable efforts in breweries and educate attendees on what can be done to preserve our planet's limited resources.
The following companies will have interactive displays in the Sustainability Education Area.
Ecosyste.ms
The Ecosyste.ms teams works with small commercial buildings to help increase energy efficiency and sustainable business practices. At the event, the team will be displaying various energy efficiency solutions that can be used at home, in offices or brewing operations (e.g., Lighting, Clean Power Generators, HVAC solutions and more..). There will be fun facts, trivia and games to help educate and engage all attendees.
Alliance for Sustainable Colorado
Alliance for Sustainable Colorado seeks to advance sustainability through collaboration among nonprofits, business, government and education. Collaboration and the people, planet, profit practice, long-term perspective, are the central foci work, along with deep commitment considering the impacts of decisions made today on future generations.  In the Sustainability Education Area, the "Alliance will provide education material to attendees and breweries that will inform them of the resources and various ways to become more involved with sustainability projects on personal, local and national levels.
Conservation Colorado
Conservation Colorado's mission is to protect Colorado's environment and quality of life by mobilizing people and electing conservation-minded policymakers. The team will bring bean bag games, ring toss and surveys to the area this year with the goal of having fun, educating others about the impact of everyday actions by individuals and breweries on the air, water, land and fossil fuels, and showcasing ways to become involved and improve.
Eco-Products, Inc.
Eco-Products' sustainable disposables sound like an oxymoron, but we live in a consumer culture where disposable products are ubiquitous. And they aren't going away anytime soon. We see this as an incredible opportunity to help change the world—and more importantly, each of the local communities we serve—by making sustainable disposable products that shift an industry.
Eco Vessel
Eco Vessel is a Boulder-based bottle company that is dedicated to making sustainable, reusable bottles. Over 2 million tons of single-use water bottles end up in U.S. landfills every year–Eco Vessel's mission is to educate people on the value of reusable bottles and end this wasteful pollution. The company also donates 1% of all sales to the non-profit Water For People.
Inland Northwest Growlers
Reduce waste by looking into the collapsible, reusable & recyclable 64 fl\oz BeerPouch. Environmentally alternative compared to glass & S/S. 32:1 liquid to packaging as opposed to glass growler at 2:1. Weighing 1.5oz, 200 BeerPouches store flat, will fit same space as 12 glass growlers and will reduce transportation costs dramatically.
ZeroHero
Like balancing plates on a stick or a beer bottle on your forehead, planning a successful zero waste event takes finesse, organization and teamwork. An expert understanding of all things zero waste combined with a penchant for hauling compost, ZeroHero has helped GABF move toward a zero waste event for the past few years.
Check out informative signage displayed at last year's Festival:
Facts, Festival Efforts and Industry Solutions
Fun Facts & Individual Action Plan