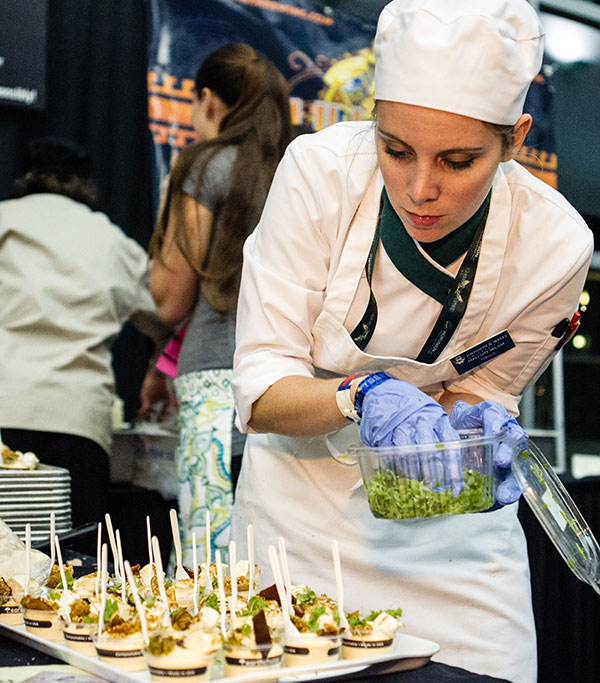 Join a who's who of celebrated chefs and small & independent brewers from around the country in this intimate setting located just off the main hall.
Created to provide an opportunity to taste how well craft beer pairs with food, attendees will sample craft beers paired with foods designed and prepared by chefs from around the country. Special releases—beers served here are available only in the pavilion and not in the festival hall!
Enjoy small plates and craft beer pairings and engage in meaningful discussions with chefs and brewers, who share similar philosophies on choosing specific ingredients to enhance their products.
Located in the Upper Lobby D area, walk through the festival to the back wall (right side doors). Participation is limited to 450 ticket holders on Thursday and Friday only,  plus guest chefs, media and a few surprise visitors each evening. Separate ticket required for entrance.
 2013 Featured Breweries & Chefs
Table #1 Great Divide Brewing Company, Denver, CO
Hades, Belgian-style Golden Ale, 7.8% ABV | Paired with Honeycomb Pheasant Confit, Pickled Colorado Peach with Fried Lemon
Oatmeal Yeti Imperial Stout, Imperial Stout, 9.5% ABV | Paired with Dark Chocolate & Pumpkin Pave with Pumpkin Seed Florentine
---
Table #2 CH Evans Brewing Co., Albany, NY
Paired with Tom Worthington, Monterey Fish Market, San Francisco, CA
Czech Yourself Pilsner, Imperial Pilsner, 9% ABV | Paired with Tuna Tartar with Uni and Green Olive Tapenade
Oatmeal Stout, Oatmeal Stout, 4.4% ABV | Paired with Oyster Raw Bar
---
Table #3 Real Ale Brewing Company, Blanco, TX
Brewers' Cut Black Quad, Belgian-Style Quadrupel, 10.8% ABV | Paired with Pastrami Spiced Lamb Shank, Pumpkin Puree with Pickled Pumpkin Salad
Lost Gold IPA, American IPA, 6% ABV | Paired with First Snow Goat Cheese Gougeres, Palisade Peach with Jalapeno Preserves
---
Table #4 Rahr and Sons Brewing Co., Fort Worth, TX
Paired with Lon Symensma, ChoLon, Denver, CO
2013 Visionary, American Imperial IPA, 8.5% ABV | Paired with Reuben Cheese Curd Puffs
Oktoberfest, German-style Marzen, 7% ABV | Paired with Truffled Crab Salad with Beet Pickled Eggs
---
Table #5 Cigar City Brewing, Tampa, FL
Paired with Alex Seidel, Fruition, Denver, CO
Good Gourd, Imperial Pumpkin Ale, 8.5% ABV | Paired with Fruition Farms Ricotta, Olathe Sweet Corn Ice Cream, Brown Butter Powder with Pork Skin & Bacon Brittle
Guava Grove, Sour Farmhouse Ale with Guava, 8% ABV | Paired with Grilled Monterey Bay Squid, Rocky Ford Melon, Sheep's Milk Yogurt Panna Cotta with Capsicum Escabesche
---
Table #6 Big Sky Brewing Company, Missoula, MT
Paired with Drew Hardin, LOLA, Denver, CO
All Souls, Imperial Saison, 11% ABV | Paired with Chipotle Seared Ahi Tuna, Citrus with Green Chile Salted Watermelon
Old Bluehair, Barleywine, 12% ABV | Paired with Wild Boar Belly Sausage, Red Pepper Jam, Mazina Crisp and Pickled Onions
---
Table #7 The Bruery, Placentia, CA
Paired with Kelly Whitaker, Basta, Boulder, CO
Beauregarde, Sour Blonde Ale with Blueberries, 5.3% ABV | Paired with Hearth Baked Brettanomyces Bread, Chicken Liver Espuma with Black Cat Farm Onion Marmalade
White Chocolate, Bourbon Barrel-Aged Wheat Wine with Vanilla Beans & Cacao Nibs, 14.75% ABV | Paired with Campfire Vanilla Panna Cotta, Bitter Almond Gelee with Smoked Honeycomb
---
Table #8 Port City Brewing Company, Alexandria, VA
Downright Pilsner, Czech-style Pilsner, 4.8% ABV | Paired with Soba Noodles with Smoked Salmon, Sesame-Miso and Jalapeno Vinaigrette
Port City Oktoberfest, Marzen Style Lager, 6% ABV | Paired with Pretzel Bun Brisket Slider with Mustard Apple Slaw
---
Table #9 Surly Brewing Company, Brooklyn Ctr, MN
Paired with Dustin Clark & Paul Kasten, Wildwood, Portland, OR
Darkness, Russian Imperial / American Double Stout, 10.5% ABV | Paired with Oxtail in Darkness Mole, Runner Beans and Gremolata
SurlyFest Lager, Vienna Rye Dry Hopped Lager, 5.3% ABV | Paired with Dry Cured Nuremburg Bratwurst, Spent Grain Crostini, Pickled Chile with Grain Mustard Aioli
---
Table #10 Victory Brewing Company, Downingtown, PA
Paired with Pat Szoke, Alla Spina, a Mark Vetri Restaurant, Philadelphia, PA
Red Thunder, Barrel-Aged Baltic Porter, % ABV | Paired with Chocolate Grappa Torta
Victory Helios Ale, Belgian Farmhouse Ale, 7.5% ABV | Paired with Mortadella Hot Dog with Spicy Pickles and Braised Red Cabbage
---
Table #11 Redrock Brewing Co., Salt Lake City, UT
Paired with Sean Clark, El Moro, Durango, CO
Bob Cat Brown, American Brown Ale, 6.1% ABV | Paired with Pork Rillettes with Caramelized Apple and Russian Black Bread
Golden Halo, Golden Blonde Ale, 5.8% ABV | Paired with Potage Crecy
---
Table #12 Logsdon Organic Farm Brewery, Hood River, OR
Paired with Kyle Mendenhall, The Kitchen, Denver, CO
Far West Vlaming, Flanders Red Ale, 6.5% ABV | Paired with Duck Rillettes with Mustard & Cherry Macaroon
Oak Aged Bretta, Organic Saison, 8% ABV | Paired with Heirloom Polenta Cake, Colorado Peach with Yogurt & Spilanthes