Volunteer Registration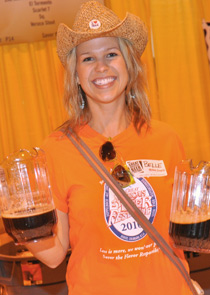 As you know, the Great American Beer Festival could not exist without its volunteer support.
Remember, volunteers represent the Great American Beer Festival to thousands of beer enthusiasts. You have been selected by your team captain to be part of a privileged team. We want responsible, knowledgeable and dedicated volunteers only. Thank you for your interest and attention to our rules!
Location & Dates
GABF 2013 will be held in the Colorado Convention Center in downtown Denver from Thursday, October 10 through Saturday, October 12.
Minimum Age Requirements
All new beer pouring volunteers must be a minimum of 25 years of age before the event to volunteer. Photo ID will be checked upon arrival.
T-Shirt/Clothing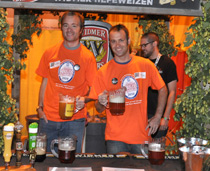 Your volunteer t-shirt is your uniform. You must wear it at all times when you are working. You will receive an event t-shirt when you check in at the beginning of your first shift. Your pants, skirt and the rest of your clothing must be appropriate for the position you are in.
Check-In
You will need to check in at least 45 minutes prior to your shift start time. The location of the volunteer check-in area will be identified closer to the event.
Responsibilities
Your main responsibility as a volunteer is to offer assistance and information to our guests and brewers in your assigned area. Please be courteous and helpful to all participants and offer any assistance to those with special needs.

On-Duty Rules
Volunteers may not (under any circumstances) over indulge. Over indulgence on site (or the appearance or suggestion of over indulgence) will result in immediate removal from the event. Remember, as a GABF volunteer we expect that you adhere to all rules & regulations while representing the Great American Beer Festival to the public. Anyone taking advantage of this policy will be escorted out of the event. If you taste, you must taste conservatively.
Attendance
We count on your presence and your prompt arrival for your scheduled shift. If your schedule changes, please contact us immediately! Volunteers that do not contact their team captain with schedule changes will be removed from the volunteer team and no longer allowed to participate.
Arrival & Breaks
Please allow adequate time to allow for parking (to be discussed at a later time) and check-in at least 45 minutes prior to your scheduled shift time. Your breaks will be coordinated by your captain.
Volunteer Training
All new volunteers are required to view the on-line training video and read and agree to the corresponding volunteer information, rules and regulations. The video link will be sent closer to the event.
Volunteer Benefits
There are a wide variety of volunteer opportunities at the Great American Beer Festival, and benefits may be earned according to the number of days, shifts and areas worked. Please note that set-up and tear-down shifts are separate from volunteer opportunities during the event, and the benefits earned are separate as well. They may NOT be combined with hours worked during the event.