Stay tuned for 2017 information.
Looking for the ultimate beer experience within the Great American Beer Festival? Back by popular demand, BeerX: The CraftBeer.com Experience packs craft beer education and entertainment into 2,500 square feet of the festival hall. Attendees are invited to learn more about their favorite beverage and the small and independent brewers behind the beers.
Step into the world of CraftBeer.com, the Brewers Association's beer enthusiast site, and delve into the main ingredients in beer. Listen to some of today's most exciting independent brewers. Sit down with an official Great American Beer Festival judge and learn tips and tricks for evaluating beer in the world's most celebrated beer competition.
New this year, celebrate the 35th anniversary of the GABF by traveling back through the years with a mini museum.
You Be the Judge
Sure, you love beer, but can you evaluate it like a pro? Sit down with one of our official GABF judges and learn their approach to choosing the best of the best during the Great American Beer Festival competition. Judge schedule for the 2016 GABF (schedule is subject to change).
35 Years of GABF
Wow! Time flies when you're having fun. Take a look back at the humble beginnings of the Great American Beer Festival.
View 35 years of posters and programs through an interactive display.
Check out artifacts and items from founder Charlie Papazian's personal collection.
Craft Beer Deconstructed
Examine the ingredients that make up your favorite craft beers. Each plays a crucial role and provides a special flavor to America's favorite adult beverage. Sample beers brewed with ingredients provided by:
Hops Table – Touch and smell a plethora of hop varieties provided by Voss Farms.
Malt Table – Taste a variety of grains used in brewing to get a better understanding of how they affect the flavor of a beer. Malt provided by Root Shoot Malting.
Yeast Table – White Labs will be on hand to showcase brewers' yeast. Sample the same beer with different yeasts to better understand the flavor profiles different strains lend to beer.
Water Table – Taste water treated with ingredients to replicate great brewing waters from around the world.
Sit & Sip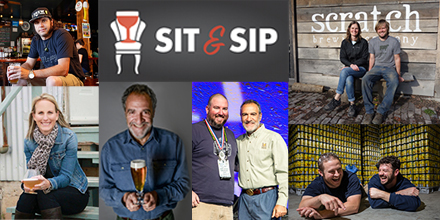 Meet face to face with some of the nation's best craft brewers and sample some of their latest creations. This is a great opportunity to learn more about the people and places fueling the American craft beer movement. This is a must for anyone who knows that there is more to craft beer than what's in the glass.
Check out the full schedule of Sit & Sips and You Be The Judge times below: