Stay tuned for 2017 particpating breweries.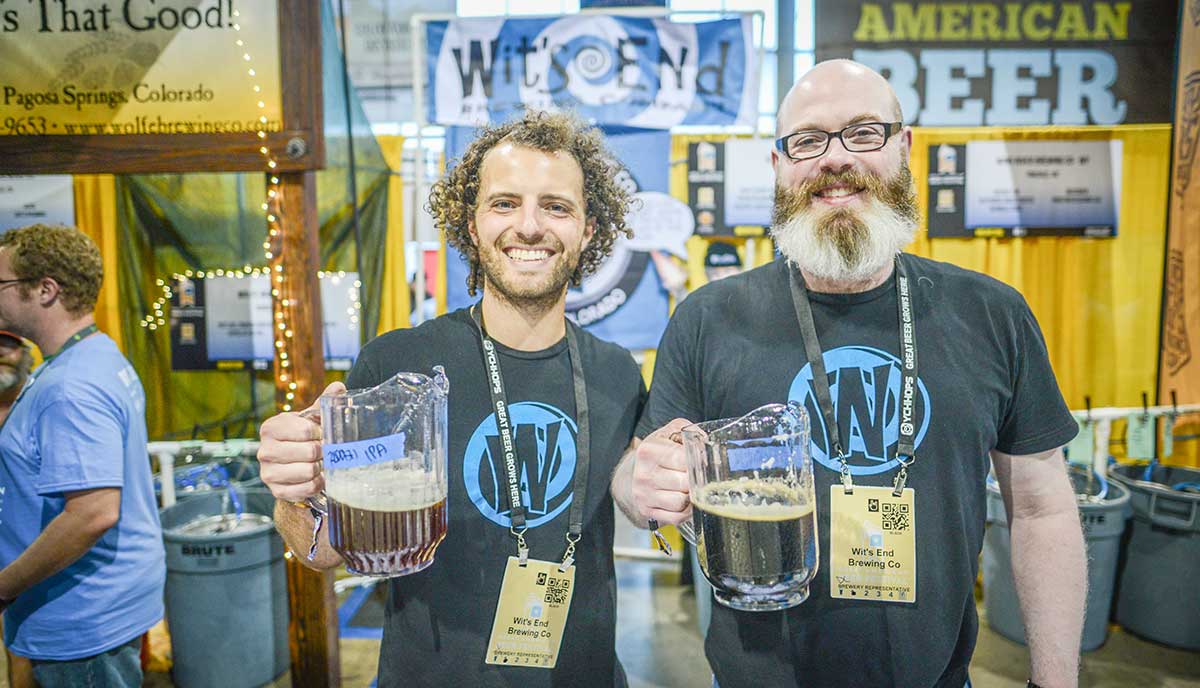 Each year, the Great American Beer Festival dedicates roughly 30,000 square feet of hall space to a section called Meet the Brewer, wherein each brewery's booth is staffed entirely, exclusively, by their employees. Want to strike up a conversation with your brewing hero? Head over to Meet the Brewer and meet the men and women behind America's craft brewing renaissance!
"Ever since the first festival, in 1982, one of the best things about GABF has been the personal interactions attendees have with their craft brewing heroes, and Meet the Brewer builds on that long tradition," says Nancy Johnson, event director at the Brewers Association. "Meet the Brewer is another great opportunity for passionate beer fans to start conversations with brewers, learn more about their beers and talk shop."
2016 Meet the Brewer Breweries
Twenty percent more breweries than last year!
| | |
| --- | --- |
| (512) Brewing Company | Austin, TX |
| 3 Freaks Brewing Company | Highlands Ranch, CO |
| 54-40 Brewing Company | Washougal, WA |
| Anthem Brewing Company | Oklahoma City, OK |
| Baere Brewing Company | Denver, CO |
| Bakers' Brewery | Silverthorne, CO |
| Barley Brown's Beer | Baker City, OR |
| Bayou Teche Brewing | Arnaudville, LA |
| BJ's Brewery | Temple, TX |
| Black Bottle Brewery | Fort Collins, CO |
| Black Project Spontaneous & Wild Ales | Denver, CO |
| Blue Blood Brewing Company | Lincoln, NE |
| Blue Owl Brewing | Austin, TX |
| Boise Brewing | Boise, ID |
| Brewery Rickoli | Wheat Ridge, CO |
| Bristol Brewing Company | Colorado Springs, CO |
| Broken Compass Brewing | Breckenridge, CO |
| Bull & Bush Brewery | Denver, CO |
| Busted Sandal Brewing Company | San Antonio, TX |
| Catawba Brewing Company | Morganton, NC |
| Caution: Brewing Company | Lakewood, CO |
| City Star Brewing | Berthoud, CO |
| Copper Kettle Brewing Company | Denver, CO |
| Crystal Springs Brewing Company | Louisville, CO |
| Declaration Brewing Company | Denver, CO |
| Deep Ellum Brewing Company | Dallas, TX |
| Denver Beer Company | Denver, CO |
| Diebolt Brewing | Denver, CO |
| Dillon Dam Brewery | Dillon, CO |
| Double Shift Brewing | Kansas City, MO |
| Dust Bowl Brewing Company | Turlock, CA |
| El Toro Brewing Company Brewpub | Morgan Hill, CA |
| Elevation Beer Company | Poncha Springs, CO |
| Factotum Brewhouse | Denver, CO |
| Fargo Brewing Company | Fargo, ND |
| FATE Brewing Company | Boulder, CO |
| Fat Head's Brewery & Salooon | North Olmsted, OH |
| Finest Made Ales | Santee, CA |
| Forbidden Root Restaurant & Brewery | Chicago, IL |
| Founders Brewing Company | Grand Rapids, MI |
| Fremont Brewing Company | Seattle, WA |
| Funky Buddha Brewery | Fort Lauderdale, FL |
| Grand Teton Brewing Company | Victor, ID |
| Granite Falls Brewing Company | Granite Falls, NC |
| Great Lakes Brewing Co. | Cleveland, OH |
| Great South Bay Brewery | Bay Shore, NY |
| Grist Brewing Company | Highlands Ranch, CO |
| Half Acre Beer Company | Chicago, IL |
| Headlands Brewing Company | Mill Valley, CA |
| Heretic Brewing Company | Fairfield, CA |
| Holidaily Brewing Company | Golden, CO |
| Horse & Dragon Brewing Company | Fort Collins, CO |
| Innovation Brew Works | Pomona, CA |
| Insight Brewing Company | Minneapolis, MN |
| Jester King Brewery | Austin, TX |
| Kane Brewing | Ocean, NJ |
| Lakefront Brewery Inc | Milwaukee, WI |
| Liquid Mechanics Brewing Company | Lafayette, CO |
| Living the Dream Brewing Company | Littleton, CO |
| Locavore Beer Works | Littleton, CO |
| Lone Tree Brewing Company | Lone Tree, CO |
| Magnolia Brewing Company – Dogpatch | San Francisco, CA |
| Mantra Artisan Ales | Franklin, TN |
| McMenamins Breweries | Portland, OR |
| MobCraft Beer Inc | Milwaukee, WI |
| Mockery Brewing | Denver, CO |
| Mother Road Brewing Company | Flagstaff, AZ |
| Mountain Sun Pub and Brewery | Boulder, CO |
| Nebraska Brewing Company – La Vista | La Vista, NE |
| Neshaminy Creek Brewing Company | Croydon, PA |
| NoDa Brewing Company – Davidson | Charlotte, NC |
| O'Connor Brewing Company | Norfolk, VA |
| Odd13 Brewing Inc | Lafayette, CO |
| Ordnance Brewing | Boardman, OR |
| Periodic Brewing | Leadville, CO |
| Peticolas Brewing Company | Dallas, TX |
| Pikes Peak Brewing | Monument, CO |
| Port City Brewing Company | Alexandria, VA |
| Pure Project | San Diego, CA |
| Ratio Beerworks | Denver, CO |
| Revolution Brewing – Brewpub | Chicago, IL |
| Revolver Brewing | Granbury, TX |
| River North Brewery | Denver, CO |
| Saint Arnold Brewing Company | Houston, TX |
| San Diego Brewing Company | San Diego, CA |
| Santa Fe Brewing Company | Santa Fe, NM |
| Schlafly Beer/The Saint Louis Brewery | Saint Louis, MO |
| Seabright Brewery | Santa Cruz, CA |
| Seedstock Brewery | Denver, CO |
| Service Brewing Company | Savannah, GA |
| Short's Brewing Co. | Bellaire, MI |
| Southbound Brewing Company | Savannah, GA |
| Southern Prohibition Brewing | Hattiesburg, MS |
| Southern Tier Brewing Co. | Lakewood, NY |
| Spangalang Brewery | Denver, CO |
| Stone Brewing Co. | Escondido, CA |
| Storm Peak Brewing Company | Steamboat Springs, CO |
| Strange Craft Beer Company | Denver, CO |
| Strangeways Brewing | Richmond, VA |
| Surly Brewing Company | Brooklyn Ctr, MN |
| Taos Mesa Brewing Company | El Prado, NM |
| Tennessee Brew Works | Nashville, TN |
| Texas Beer Refinery | Dickinson, TX |
| Topa Topa Brewing Co | Ventura, CA |
| Triton Brewing Company | Indianapolis, IN |
| Troegs Brewing Company | Hershey, PA |
| Twisted Pine Brewing Company | Boulder, CO |
| Verboten Brewing | Loveland, CO |
| Very Nice Brewing Company | Nederland, CO |
| Victory Brewing Co | Downingtown, PA |
| WeldWerks Brewing Company | Greeley, CO |
| West Flanders Brewing Company | Boulder, CO |
| Wibby Brewing | Longmont, CO |
| Winchester Brew Works | Winchester, VA |
| Wit's End Brewing Company | Denver, CO |
| Wolf Tree Brewery | Seal Rock, OR |
| Wonderland Brewing Co. | Broomfield, CO |
| Wormtown Brewery | Worcester, MA |
| Wynkoop Brewing Co. | Denver, CO |
| Wynwood Brewing Company | Miami, FL |