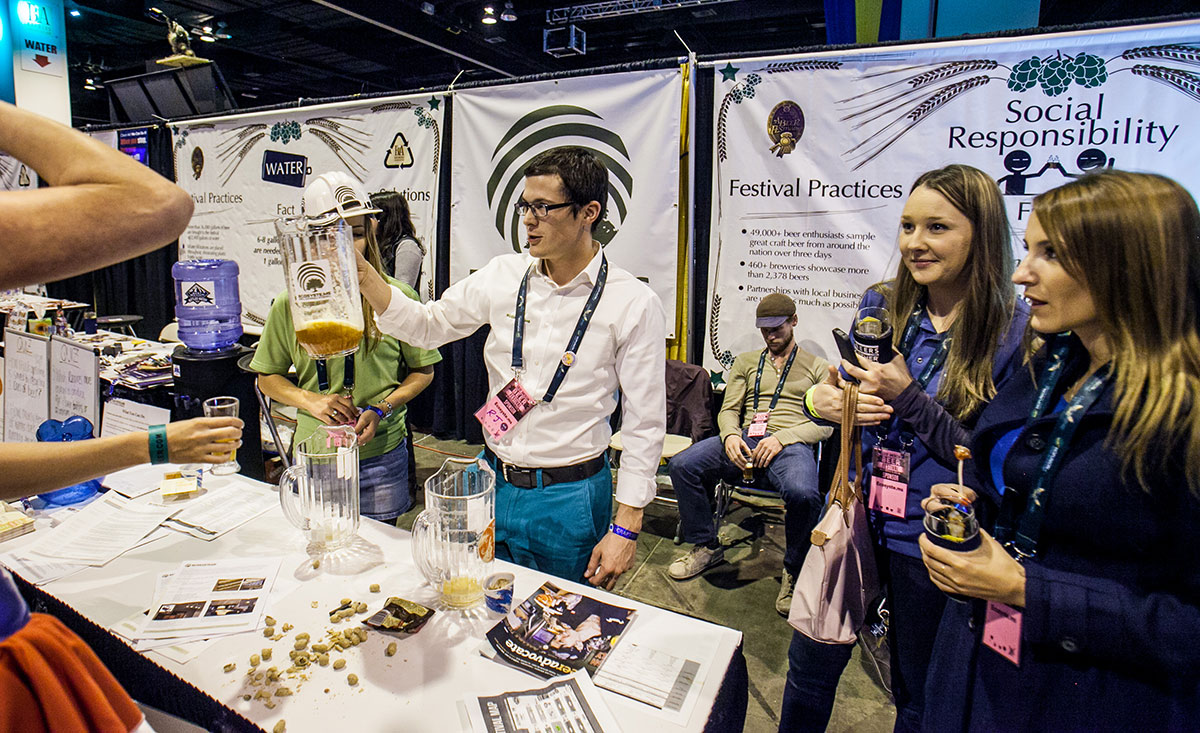 The Great American Beer Festival has partnered with ZeroHero, Ecosyste.ms and the Alliance for Sustainable Colorado to not only create a more sustainable festival, but to also educate on what is being done and what can be done to preserve our planet's limited resources.
Stop by to ask questions, learn green practices and collaborate with sustainable companies and brewery representatives featured in the Sustainability Pavilion.
SUSTAINABILITY IN BREWERIES
Stop by to chat with leading experts in the industry doing sustainable practices in their breweries. Find out what breweries are doing…how you can help…and get inspired through one-on-one conversations.
2014 Sustainability Pavilion Schedule
THURSDAY
6:00-7:00pm – Bear Republic Brewing Company
Clay Grosskopf, Marketing Manager
Bear Republic believes that sustainability, beer quality and financial responsibility go hand-in-hand. They have worked hard to achieve a 3.5-to-1 water-use to beer-produced ratio in a water stressed region. They have invested in extensive solar arrays and are on the way to having 171 kW of clean solar power. They are working to install the world's first bioelectrically enhanced wastewater pretreatment plant which will create high quality methane and provide 25 percent of the hot water and close to 50 percent of electrical needs. They also donate spent grain to a cattle rancher who provides wholesome meat to low-income families via the local "Range to Table" program.
7:15-8:15pm – Left Hand Brewing Company
Adam Lawrence, Brewer and Chair, Green Team
The Left Hand Green Team strives to be environmentally conscious of the brewery's long-term impact and be an active leader in reducing our carbon footprint, while educating and influencing staff and customers on the importance of sustainable growth. In 2013, the company used an industry low average of 3.84 gallons of water to create 1 gallon of beer and their energy usage ratio decreased an average of 13 percent over the previous year!​ www.lefthandbrewing.com/about/sustainability-green/
8:30-9:30pm – New Belgium Brewing Company
Katie Wallace, Assistant Director of Sustainability
Recently becoming a Certified B Corp was a great way to validate New Belgium's long-standing business practices, as their rigorous standards measure holistic benefits to community, coworkers and the environment. While their solar panels and recycling practices have their place, the company culture is the most important and transferable tool to drive sustainability. 100% employee-owned means sharing the risks and rewards, and that when people have a passion for what they do, all are more successful! www.newbelgium.com/Sustainability.aspx
FRIDAY
6:00-7:00pm – Sierra Nevada Brewing Company
Brandon Smith, Project Engineer
At Sierra Nevada Brewing Co., sustainability means recognizing the impacts associated with operations and making a conscious effort to reduce them. They are committed to leaving the smallest footprint possible without jeopardizing high standards for quality. The brewery strives to maintain a healthy balance between environmental stewardship, social equity and economic stability. By engaging in an active sustainability program, they intend to leave a better world for future generations. www.sierranevada.com/brewery/about-us/sustainability
7:15-8:15pm – Deschutes Brewery
Jason Randles, Digital Marketing Manager
From day one Deschutes Brewery has lived by these words: "Do your best and next time do it better." As the first craft brewery to implement the Global Reporting Initiative (GRI) approach, we're dedicated to tracking our economic, environmental and social impact as we strive to use fewer resources, maintain a productive and healthy workforce, and create lifelong fans. To view the complete GRI report and to learn more go to www.deschutesbrewery.com/sustainablity.
8:30-9:30pm – Great Lakes Brewing Company
Sarah Russell, Tour Guide / Utility Player
Great Lakes Brewing Company engages in economic, social and environmental practices that achieve a sustainable yet profitable business. This Triple Bottom Line philosophy is present in almost every aspect of the business. From in-kind and monetary donations to community organizations, to green building and energy efficiency, to utilizing house-made biofuels, they are deeply invested in the sustainability of the business, community and planet. www.greatlakesbrewing.com/sustainability/triple-bottom-line
SATURDAY AFTERNOON
12:30-1:30pm – Stone Brewing Company
Steve Gonzalez, Research and Small Batch Manager
Water usage and water reclamation are a huge focus at Stone Brewing Company. Their Water Reclamation System generates bio-solids that are a useful bi-product of the brewing process, reclaims water for cleaning around the brewery and brines what can be safely and harmlessly discharged to the ocean. Recent initiatives to decrease the use of soft lines and increase the amount of hard-pipe transfer lines around the brewery have helped decrease the amount of water and energy required for sanitation. All of these initiatives around water usage and reclamation help the brewery in their goal to be a world-class sustainable brewery.
1:30-2:30pm – Left Hand Brewing Company
Adam Lawrence, Brewer and Chair, Green Team
The Left Hand Green Team strives to be environmentally conscious of the brewery's long-term impact and be an active leader in reducing our carbon footprint, while educating and influencing staff and customers on the importance of sustainable growth. In 2013, the company used an industry low average of 3.84 gallons of water to create 1 gallon of beer and their energy usage ratio decreased an average of 13 percent over the previous year!​ www.lefthandbrewing.com/about/sustainability-green/
2:30-3:30pm – Hopworks Urban Brewery
Christian Ettinger, Brewmaster and Owner
In 2013, Hopworks Urban Brewery was voted as one of the Best 100 Green Places to Work by the Oregon Business Journal. Their mission is to "produce world-class beer and food as sustainably as possible." This means that every decision made must be good for the environment and the people in their surrounding community, while keeping Hopworks and suppliers in business for the long haul. As the brewery grows, they look for ways to use less, reuse more and be better stewards of the environment, focusing on water efficiency, energy efficiency, zero-waste, transportation, food and offsets. www.hopworksbeer.com/green-culture-2
SATURDAY EVENING
6:00-7:00pm – Oskar Blues Brewery & Hops and Heifers Farm
Geoff Hess, Farmer
Oskar Blues Brewery Hops and Heifers Farm defines the sustainability buzz word in terms of stewardship. Positive stewards of their land, livestock and natural resources lay the groundwork for sustainability. They begin by using brewery outflows, spent grain (mash), yeast and hop residuals to provide important high protein supplementation to live stock. The all natural Black Angus beef raised is then served in restaurants; always local, always fresh. They raise local hops to create small batch specialty beers as fresh as you can get. In the hop yard, they fertilize the plants with the compost created, using integrated pest management instead of chemicals, and irrigating with a highly efficient drip irrigation system. The farm is an ever-evolving example of keeping things simple.
7:15-8:15pm – Odell Brewing Company
Corey Odell, Sustainability Coordinator
Odell Brewing understands that they are responsible for their community and environment.  While payback is considered in all investments they make, they place a higher value on what they're accomplishing for the environment in which we live, allowing them to make investments in sustainability that don't necessarily make sense from a financial perspective. At Odell, they always strive to be better: to better the environment, the community and, of course, their beer.
8:30-9:30pm – Alaskan Brewing Company
Andy Kline, Communications Manager
Beer Powered Beer is how Alaskan Brewing describes using the by-products of the beer they brew to make even more beer. In 1998, they were the first craft brewery to install a CO2 recovery system, which has been a "closed loop" system since then –and their latest innovation is a spent-grain powered steam boiler that produces the steam for brewing systems, thereby saving up to 70% of the fuel they would otherwise use. www.alaskanbeer.com/our-brewery/sustainable-brewing.html
SUSTAINABILITY EDUCATION IN WATER, ENERGY AND WASTE
The following companies will have interactive displays and educational materials in the Sustainability Pavilion:
Alliance for Sustainable Colorado
The Alliance for Sustainable Colorado transforms sustainability from vision to reality through demonstration and collaboration. They own and operate The Alliance Center, Colorado's Hub of Sustainability, which is a multi-tenant space for ALL. The Center allows a great space for organizations and individuals working on sustainability to dream, work and collaborate for the greater good.
American Rivers protects wild rivers, restores damaged rivers and conserves clean water for people and nature. Since 1973, American Rivers has protected and restored more than 150,000 miles of rivers through advocacy efforts, on-the-ground projects, and an annual America's Most Endangered Rivers® campaign.
BikeDenver is Denver's bicycle advocacy organization and the leading nonprofit to promote and encourage bicycling as an energy efficient, non-polluting, healthy and enjoyable transportation alternative in and around Denver. At their table, learn how cycling helps conserve energy, how to change a flat, and how to ride more safely!
Brendle Group is a sustainability consulting firm that leads by example, inspiring and empowering organizations to make thoughtful choices about the energy and resources they use, and create realistic roadmaps for sustainability. They leverage what their clients do well with their desire to do more for people, profit and planet.
The Colorado Green Building Guild is a non-profit trade organization representing a wide range of green building leaders. Their mission is to create and support community-focused networks of building professionals and local governments in order to: share knowledge, increase business opportunities, support a clean energy economy, and make sustainable building common practices.
Eco-Cycle, one of the largest nonprofit recycling centers in the USA, will show individuals, businesses, and brewers everywhere how to increase recycling, decrease waste, and build and live more sustainably.
The Ecosyste.ms team works with small commercial buildings to help increase energy efficiency and sustainable business practices. At the event, the team will be displaying various energy efficiency solutions that can be used at home, in offices or brewing operations (e.g., lighting, clean power generators, HVAC solutions and more). There will be fun facts, trivia and games to help educate and engage all attendees.
Green Garage is a full service, eco-friendly auto repair shop. At their table, they will be demonstrating the importance of recycling motor oil and the destruction caused when you don't.
Ethos designs landscapes holistically, using nature to solve man-made problems. They know that function and aesthetics are equally important and that healthy soil and conscientious water use are vital to the health of the space. Swing by to find out just how much potable drinking water is used in the landscape.
Sierra Club, Rocky Mountain Chapter
The Denver Metro Network of the Sierra Club represents and serves the needs of Sierra Club members and local residents in the Denver, Colorado metro area. They'll be playing conservation trivia focusing on the local campaigns the DMN is pursuing in the Denver area.
Water for Colorado is a collaborative effort amongst many of the state's leading conservation organizations to promote water conservation and river protection in the state's first water plan. WaterForColorado.org is an online hub to learn about the water plan and take action to ensure we protect Colorado's rivers in the process.
WildEarth Guardians works to protect and restore the wildlife, wild places, wild rivers and health of the American West. Through their Climate and Energy Program, they're confronting global warming by exposing the real cost of fossil fuels and opening the door for clean energy to flourish.