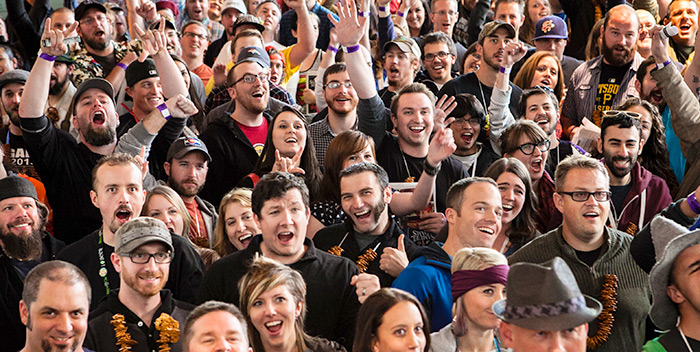 The Saturday afternoon session of the Great American Beer Festival (GABF) is open exclusively to AHA and Brewers Association members. Only AHA & BA members are invited to participate in the GABF's extremely popular member ticket pre-sale. (You must purchase a membership in the American Homebrewers Association or Brewers Association by July 20, 12:00 midnight PDT, to be eligible for the member pre-sale.)
2014 Individual Session Tickets (Members Only)
2014 Session Date
2014 Session Time
2014  Prices
*Includes festival program, special gift, unlimited sodas and hospitalities in the Designated Drivers lounge.
Thursday, October 2
5:30 pm – 10:00 pm
$75
Friday, October 3
5:30 pm – 10:00 pm
$75
Saturday, October 4 Members Only Session
12:00 pm – 4:00 pm
$65
Saturday, October 4
5:30 pm – 10:00 pm
$75
Designated Driver*
Available for all sessions.
$25
Note: Ticket includes festival program, commemorative tasting cup and unlimited one-ounce samples of more than 3,000 beers.
Farm to Table Pavilion Tickets (Members Only)
2014 Session Date
2014 Session Time
2014 Prices
Thursday, October 2 GABF + Farm to Table
5:30 pm – 9:00 pm
$140
Friday, October 3 GABF + Farm to Table
5:30 pm – 9:00 pm
$140
Farm to Table Pavilion ticket purchase includes same-day GABF General Admission ticket.
Note: Available to AHA and BA members only. See Farm to Table Pavilion for more information. Four ticket limit per night per person.
Farm to Table Entrance: Farm to Table ticket holders may enter the Convention Center near the Big Blue Bear at 14th St. and California, and continue up the escalator to the festival entrance.