2014 Details for Entering
GABF 2014 Registration Process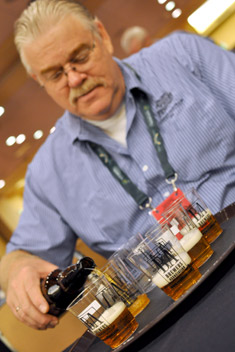 Due to increased demand from the growing number of U.S. breweries, the registration process for the festival and competition have been changed significantly. To eliminate the "race to enter" and as a way to include as many breweries as possible, the registration process now involves a three-step process consisting of brewery, beer and booth registration. Here is a quick look at the registration process for GABF competition and festival participation.
Step 1: Brewery Application Period: June 17 – June 26*
Breweries apply online to participate
A $160 application fee (for BA Members / $385 for non-members) is due by credit card at this time. This application fee also covers the cost of your first beer entry. This fee is non-refundable.
Breweries indicate if they are interested in having a booth at the festival or only participating in the competition.
Beers will be entered at a later date. The number of beers each brewery may enter will be based on the number of breweries participating (*see below).
Step 2: Competition Beer Registration: July 1 – July 10
Breweries that have applied will receive an email with instructions on how many beers may be entered into the competition*.
Breweries will enter their competition beers online and select the  appropriate competition categories for each beer.
Step 3: Festival Booth & Beer Registration: July 15 – July 24
By July 7, breweries are notified if they will have a booth at the festival. Cost for a booth is $250 for BA Members (non-members are not eligible for a booth at the festival).
If demand exceeds capacity for festival booth space, booth spaces will be assigned via lottery, based on geographical region.
Breweries confirm the beers being poured at the festival. The intent is to have beers being poured at the festival be the same as those entered in the competition.
*In 2013, 747 breweries entered 4,809 beers in the competition. A maximum of 5,400 beers can be judged at the 2014 competition. The maximum number of beer entries per brewery will be determined by dividing 5,400 by the number of breweries that enter. In the unlikely event that more than 1,400 breweries enter the competition prior to the deadline, the brewery application window will close prior to June 26.
---
Eligibility
Brewery Eligibility & Requirements
Who Is Eligible to Enter the GABF?
Only legally operating commercial breweries in the U.S. are allowed to enter the Great American Beer Festival (GABF), and they must currently sell beer to consumers in accordance with state and federal laws. In order to participate in the GABF, a brewery must be operational and have a federal TTB (U.S. Alcohol and Tobacco Tax and Trade Bureau) Basic Permit/Brewers Notice at time of registration or have their beer brewed in a federally permitted facility. Breweries in planning and/or those not operational at the time of registration are not eligible to participate.
All beers entered must be brewed in a facility with a Brewers Notice on file with the TTB. Breweries located in U.S. Territories in which a TTB Brewers Notice is not required to produce beer commercially must conform to all local licensing and other regulations that pertain to the commercial production of beer, must establish that they are in compliance with all such licensing and other regulations and requirements pertaining to commercial production of beer, and must comply with any US Federal regulations required to produce beer commercially and/or to import beer into the United States for purposes of the Great American Beer Festival, including registering with the FDA.
Is my brewery a brewpub or packaging brewery?
Brewpub: A restaurant-brewery that sells 25% or more of its beer on site. The beer is brewed primarily for sale in the restaurant and bar. The beer is often dispensed directly from the brewery's storage tanks. Where allowed by law, brewpubs often sell beer "to go" and/or distribute to off-site accounts.
Small breweries that sell most of their beer out of a taproom are not considered brewpubs.
Packaging Brewery: The Brewers Association categorizes a company as a packaging brewery if its off-site (distributed) beer sales exceed 75 percent of total production volume.
Single companies entering both packaging and brewpub locations
Companies entering separate packaging and brewpub locations must all compete in the same Brewery of the Year (BOY) category, and should enter the largest applicable BOY category for their company.
For example, if Moe's Brewing Company enters both Moe's Brewing Company Production Facility (producing 100,000 BBL) and Moe's Brewpub (producing 7,000 BBL) in the competition, both locations must compete in the largest applicable BOY category for the company as a whole. In this case, both compete in Mid-Size Brewing Company.
Beer Eligibility & Requirements
Please note that in order for beer to be eligible for entry, your brewery must first meet all brewery eligibility requirements listed above. If your brewery does not meet all of these requirements above, your beer is not eligible.
Is My Beer Eligible?
All beer brands entered in the Great American Beer Festival must be brewed and fermented in the U.S. or at breweries located in the unincorporated, organized U.S. Territories of Guam, Northern Mariana Islands, Puerto Rico and U.S. Virgin Islands, must meet the definition of beer as defined by the TTB, and must possess the characteristics generally attributed to and conforming to the trade understanding of "beer." Meads, ciders, spirits, and flavored malt beverages including most shandies and radlers are not eligible to be entered in the GABF competition or festival.
All beer brands entered in the Great American Beer Festival must be commercially available exactly as entered by brand name. "Commercially available" means the entered brand has been available for sale at retail under the exact brand name as entered on the GABF entry registration form on or before August 25, 2014. Breweries and beer brands registered for the GABF which do not fit these criteria are subject to disqualification without further notice or refund of registration fees.
How Many Categories May I Enter?
Each beer brand may be entered only one time.
A beer brand may not be entered in multiple categories.
A beer brand may not be renamed and entered in multiple categories.
Beer brands may not be entered by more than ONE brewery in a chain of stores, brewing company, by breweries with related names or aligned marketing strategies, or by multiple breweries that have collaborated on a brand
What if My Beers Are Contract Brewed By Another Brewery?
If you own the rights to a brand, but your beer is produced by another brewery, you are still eligible to enter the GABF. Enter the TTB Basic Permit/Brewers Notice number of the brewery producing the beer on your registration entry. Any award won by a contract brand is property of the winning contract brewery which owns the brand, not the brewery producing the beer.
Maximum number of beers allowed for entry in the competition (per brewery)
This number is TBD and is based on number of brewery applications received. Approximately 5,400 total competition entry spots will be divided among registered breweries. No single locations is allowed to enter more than the designated maximum number of competition beer entries.
Maximum number of beers allowed entered in the competition per brand family and/or control group
Twenty (20) beers. No group which owns multiple breweries, whether packaging breweries and/or brewpubs, may enter more than a total of 20 combined beers.
For example, Chad's Brewing Incorporated owns 10 breweries around the country. A maximum of 20 competition entries total may be entered by Chad's Brewing Incorporated. The number of entries per brewery may not exceed the established maximum number of competition entries for single location breweries.
Maximum number of beers allowed at the festival
Each brewery with a festival booth may pour one additional beer over the number entered into the competition, but no brewery can exceed five beers at their booth. The only exception is for breweries that sponsor the event. Sponsor breweries are allowed to pour up to 10 beers at their festival booth.
---
Pricing
Cost to Participate
| GABF | Pricing |
| --- | --- |
| Application fee (includes first competition beer entry) | $160 for BA Members ($385 non-members) |
| Additional Competition Beer Entries | $160 for BA Members ($385 non-members) |
| GABF Booth Fee | $250 for BA Members (non-members are not eligible for festival booth at GABF) |
Please note that the pricing reflects on-line registration prices.
---
Helpful Suggestions for Completing the Entry Form
When registering online, know the categories in which you plan to enter each beer.
Include the requested information on the registration form in the area titled "Specify Ingredients and/or Classic Style," if appropriate.
When entering beers with ingredients like fruit, vegetables, spices or chocolate (or others), avoid words like extract, puree, fresh, all natural, artificial, concentrate, frozen or canned; just indicate which ingredient is used. For example, both "Fresh Raspberries" and "Raspberry Extract" would be indicated simply as "Raspberry." Extraneous words are removed from your description and are not provided to the judge panel.
Do not specify any regional information that could compromise the anonymity of your entry. For example, "Arizona Wildflower Honey" should be listed as "Wildflower Honey."
Be sure to indicate pouring instructions for each entry. Your choices are "Normal Pouring", "Do Not Rouse", and "rouse." If you do not specify pouring instructions, the default value of "normal pouring" is used for your entry. Pouring instructions entered during registration are used exclusive to any markings on entry containers or labels
All beers entered into the competition on your entry form are counted toward Brewery of the Year awards.
A minimum of six entries is required in a category for that category to be judged. Categories with fewer than six entries as of the competition registration deadline will be recombined at the discretion of the competition manager as a subcategory of another appropriate category in order for those entries to be judged. Breweries with entries in these categories will be notified, and given the option of accepting this recombination, or withdrawing those entries.
---