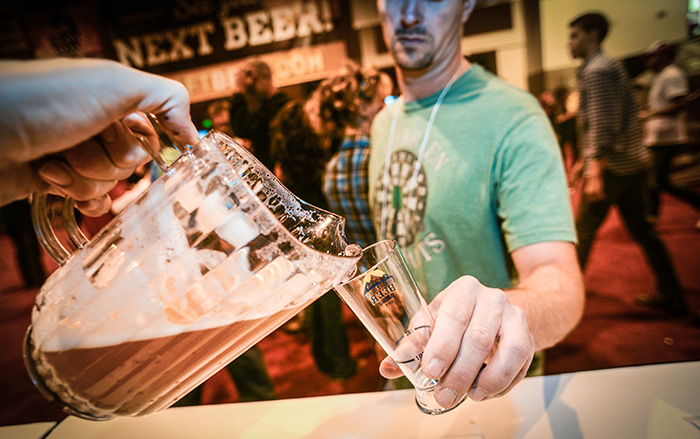 Note: The Great American Beer Festival includes both a public tasting and a private judging event.
---
2015 Preview
Bigger. Better. Beerier. 
In 2015, GABF will add 90,000 square feet of hall space and expand to nearly 750 breweries. The festival will also feature a new section called Meet the Brewer, where roughly 100 brewery booths will be staffed exclusively by brewery employees. The Farm to Table Pavilion will return with a new name: Paired. The tasty format—craft beers paired with small bites—will stay the same.
My GABF App: Still Free, Still Awesome
Find your favorite festival beers with your mobile device! Now in its third year, the award-winning My GABF app allows you to search by brewery or beer, take tours of the hall based on your taste and keep track of the breweries you visit and the beers you enjoy. Read all about it!
---
2014 Festival Facts

The festival sold out in 32 minutes during the public ticket sale in 2014. In 2007, the festival sold out the week of the event.
3,500+ beers were poured in the festival hall—the biggest selection of American beers ever served.
49,000 attendees (includes ticketed attendees, brewers, judges, volunteers and journalists).
700+ U.S. breweries served in the festival hall.
GABF had a $7 million economic impact on the city of Denver in 2012, according to Visit Denver, the city's convention and visitors bureau.
---
2015 Date, Time, Location & Tickets
2015 dates: September 24-26.
Colorado Convention Center, Hall B, D, E & F, Downtown Denver.
Three evening sessions and one afternoon session.
Evening Sessions: Thursday, Friday, Saturday 5:30-10:00 pm

Attendees receive a commemorative tasting cup, samples in one-ounce portions, the opportunity to sit in on presentations, and a festival program.

Afternoon Session: Saturday 12:00-4:00 p.m. American Homebrewers Association (AHA) and Brewers Association Members-Only session.

Attendees receive a commemorative tasting glass, samples in one-ounce portions, a festival program and a chance to rub elbows with brewers and be the first to sample award-winning beers as the winners of the prestigious Great American Beer Festival competition are announced.
---
2014 Great American Beer Festival Competition
90 categories of beer were judged in 2014, covering 138 beer styles, as well as the GABF Pro-Am.
The competition was judged by 222 judges from 10 countries.
Judging took place October 1-3.
461 first-time participants competed.
1,309 breweries entered the competition, representing 50 states and Washington, D.C.
5,507 beers were entered in the 2014 competition.
---
Navigating the Festival Hall
The Hall is divided into eight U.S. regions: Mid-Atlantic, Midwest, Rocky Mountain, New England, Pacific, Pacific Northwest, Southeast, and Southwest.
Take a beer tour using the My GABF app.
Taste beers from a particular state or region.
Focus on one particular style of beer (e.g., Stout, Pilsner or Pale Ale).
Notice how breweries in different regions approach a certain style.
Taste the medal-winning beers during the Saturday afternoon Members-Only or evening session. Winners announced during the Members-Only Saturday afternoon session.
---
Festival History
The first festival was held in 1982 at the Harvest House Hotel in Boulder. There were 22 breweries, 40 beers and 800 attendees.
The festival moved to Denver in 1984.
The 10th festival was held at the Denver Merchandise Mart with 150 breweries, 500 beers and 7,000 attendees.
Due to continued growth and popularity, the festival was moved from Currigan Hall in Denver to the Colorado Convention Center in 2000.
Demand for tickets is at an all-time high. The 2007 festival sold out the week of the event, while the 2014 event sold out in 32 minutes.
---
Festival Highlights
Great American Beer School—The beer education areas inside the festival hall include:

Craft Beer & Food Pavilion – Enjoy multiple demonstrations throughout the festival, in which chefs and brewers alike discuss the art of cooking with craft beer as well as how to pair with beer to make the perfect meal.
Paired/Farm To Table Pavilion – Join chefs and small and independent brewers as they discuss and pair craft beer with dishes created with locally grown ingredients. Additional ticket required.
Brewers Studio Pavilion – With beer that tastes so good, there must be an even better story behind it! The Brewers Studio gives festivalgoers the opportunity to listen to the brewers themselves as they wax philosophical on a variety of subjects as well as share their stories and beers.
The annual GABF Pro-Am Competition – Entries are brewed by professional craft brewers based on award-winning homebrew recipes from American Homebrewers Association (AHA) members. Homebrew recipes are scaled up and brewed at a craft brewery for submission into the GABF Pro-Am competition.
Support Your Local Brewery Pavilion – Learn about individual states' beer culture and try the rare beers showcased by the guilds–beers that are unavailable anywhere else at the festival. Several states will be represented. Enjoy displays of malt, hops, brewing equipment and more!
Brewers Publications Bookstore – This area features books on every aspect of brewing, from style, technique and history to cooking, pairing and serving beer with food. Sample copies will be available and special book signings will be offered.
You Be The Judge Booth – Evaluate a beer with a BJCP (Beer Judge Certification Program) or GABF competition beer judge.
The Silent Disco – Always a crowd favorite, the Silent Disco gives dancers the chance to dance to music only they and the other disco dancers can hear through wireless headphones. Fun for dancers and spectators alike!
---
Learn about the sponsors that support GABF.
---
GABF Official Numbers
| | 2014 | 2013 | 2012 | 2011 | 2010 | 2009 |
| --- | --- | --- | --- | --- | --- | --- |
| Attendance | 49,000 | 49,000 | 49,000 | 49,000 | 49,000 | 49,000 |
| Volunteers | 3,300 | 3,245 | 3,023 | 3,411 | 3,281 | 3,000 |
| Volunteer Hours Worked | 47,214 | 41,919 | 54,515 | 52,075 | 43,679 | 41,679 |
| Breweries at the Festival | 710 | 624 | 578 | 466 | 455 | 457 |
| Beers at the Festival | 3,500+ | 3,142 | 2,774 | 2,375 | 2,248 | 2,101 |
| Beers in the Competition | 5,507 | 4,809 | 4,338 | 3,930 | 3,523 | 3,308 |
| Categories Judged | 90 + Pro-Am | 84 + Pro-Am | 84 + Pro-Am | 83 + Pro-Am | 79 + Pro-Am | 78 + Pro-Am |
| Number of Judges | 222 | 201 | 185 | 167 | 151 | 132 |
| Avg. number of beers in each Category | 61 | 51 | 51 | 48 | 42 | 42 |
| Category with Highest Entries | American Style India Pale Ale: 279 | American Style India Pale Ale: 252 | American Style India Pale Ale: 203 | American Style India Pale Ale: 176 | American Style India Pale Ale: 150 | American Style India Pale Ale: 134 |
| Medals Awarded | 268 + 3 in Pro-Am | 252 + 3 in Pro-Am | 251 + 3 in Pro-Am | 248 + 3 in Pro-Am | 236 + 3 in Pro-Am | 234 + 3 in Pro-Am |