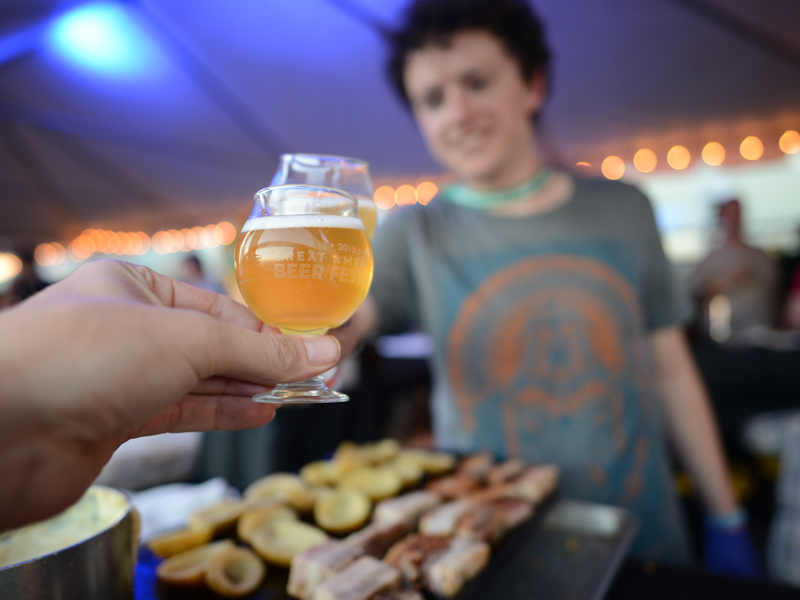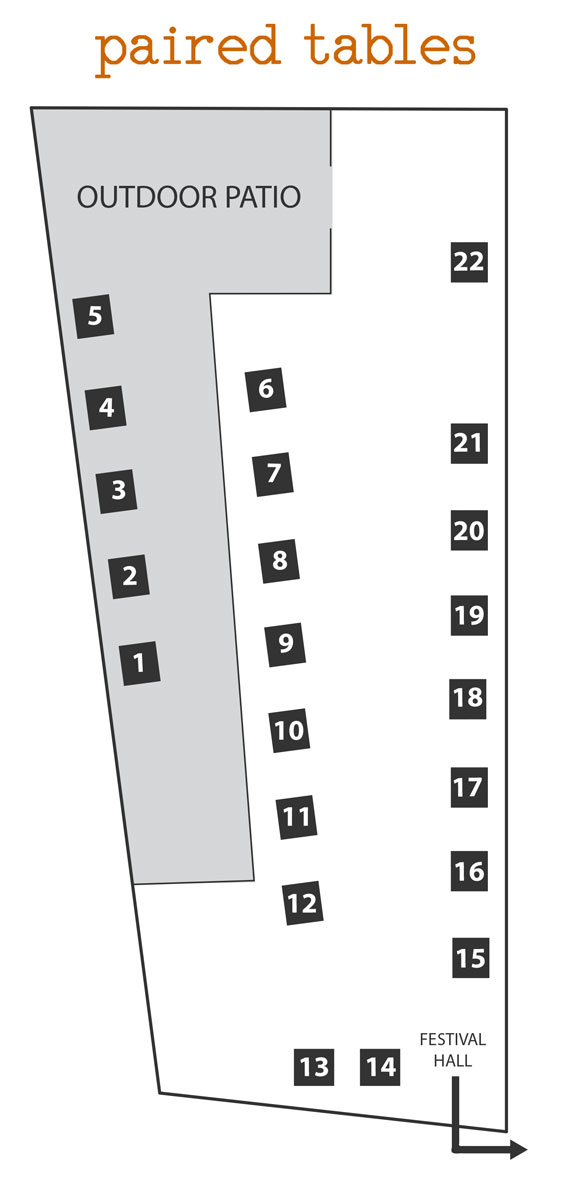 Paired features celebrated chefs with small & independent brewers from around the country in an intimate setting located just off the main festival hall. Chefs and breweries are encouraged to collaborate on beer and food pairings that create a unique experience for attendees.
See participating chefs and breweries.
Enjoy small plates and craft beer pairings, then engage in meaningful discussions with chefs and brewers who share similar philosophies on choosing specific ingredients to enhance their products.
Each brewery brings two special/rare beers not offered in the festival hall. Each chef creates two small bite dishes to pair with those beers. Paired features 21 chefs matched with 21 craft brewers, offering 42 unique pairings of beers and bites.
Our featured chefs from across the country are defining new American cuisine in their own communities. In partnership with the BA Export Development Program, Paired will also feature a chef from London and Mexico. Paired chefs have garnered national accolades for their contributions to cuisine and community from the James Beard Foundation, magazines such as Food and Wine and Bon Appetit, and many more.
Separate ticket required for entrance. Paired ticket holders can enter via the escalator in lower lobby D in front of the Bellco Theatre or via the main festival entrance.
---
2017 Paired Menu
table 1
community beer works : buffalo, ny
+ lamar moore : chicago, il
that ipa + smoked brisket sausage, molasses braised onions, grain mustard
rutherford b haze + bbq shrimp 'n grits, citrus green onions
table 2
mobcraft beer : milwaukee, wi
+ joe rodger : shift flg, flagstaff, az
hoppy hoppy pants pants + green curry duck pastrami
screwdriver hefe + citrus, cardamom pavlova
table 3
paradise creek brewery. : pullman, wa
+ sheila lucero : jax fish house, denver, co
paradise creek lambic + oysters on the half shell, apple cider + beet mignonette
peach saison + autumn squash bisque, spiced blue crab
table 4
vernal brewing company : vernal, ut
+ nathan miller : nathan miller chocolate, chambersburg, pa
.50 caliber ipa + buttermilk white chocolate, pink peppercorns, zest of lemon
mama's milk + boxcar coffee bar + cocoa nib crunch
table 5
cypress grove : arcata, ca
assorted cheeses
table 6
lost highway brewing company : centennial, co
+ marc vetri : alla spina, philadelphia, pa
bad moon rising + casoncelli, amaretti, raisins
raspberry beret + poached shrimp ceviche, lime, lemon + grapefruit juice, raspberry infused honey, torn mint, sea salt rim
table 7
uncommon brewers : santa cruz, ca
+ ian davis : band of bohemia, chicago, il
golden state ale + venison salvo, spinach tortellini, venison stock, venison bottarga, maple flakes, parsnip puree
rubidus red ale + poblano + caramel pâte de fruit, goat milk pudding, corn pudding, lime, cilantro
table 8
adroit theory brewing company : purcellville, va
+ alex seidel : mercantile dining & provision, denver, co
ebk + alaskan king crab, coconut curry, cauliflower kimchi
somnambulist saison + preserved palisade peach, spent grain ice cream, torn malted cake, puffed grains
table 9
green flash brewing co. : san diego, ca
+ john tesar : knife, dallas, tx
ideal belgique + duck confit risotto, dried fruit chutney, crispy duck skin
golden god + braised beef cheeks, creamy polenta, black truffle essence
table 10
crane brewing : raytown, mo
+ gavin fine : roadhouse pub and eatery, jackson hole, wy
beet weiss + jackson hole's bovine + swine black 'n blue sausage + fresh lobster, pickled shallots, soft rolls
gooseberry gose + grilled unagi, tempura fried rice cake, sweet & savory soy-miso butter
table 11
right brain brewery : traverse city, mi
+ paul reilly : beast + bottle, denver, co
thai peanut + gulf shrimp, kaffir lime, popcorn grits, tomato
schrute farms beet beer + gorgonzola terrine, rye, walnuts, grapes
table 12
brew bus brewing : tampa, fl
+ sean clark : el moro spirits & tavern, durango, co
you're my boy, blue! blueberry wheat ale + honey + lavender chevre profiteroles, palisade peach curd, blueberry dust
bourbon barrel-aged curb check imperial porter + sous vide bourbon barrel-smoked pork belly, butternut squash puree, molasses demi
table 13
blue blood brewing co. : lincoln, ne
+ tim rattray : the granary, san antonio, tx
caribbean style blonde with mango and pineapple + kombu cured hamachi
last call + pastrami short rib, sauerkraut, apple
table 14
baxter brewing company : lewiston, me
+ mike friedman : the red hen/all-purpose, washington, dc
ceremony + marinated tuna crudo, pickled cucumber, lemon, sesame, calabrian chili aioli, toasted corn crunchies
hayride + chicken liver mousse "tramezzino", smoked cippolini "agrodolce", fig conserva, thyme + marcona almond
table 15
fossil cove brewing co. : fayetteville, ar
+ jeremy sewall : row 34, boston, ma
honey project #1 + smoked bluefish salad, spicy greens, pickled vegetables
5th anniversary ale + spicy tuna poke, cucumber, crispy shallots
table 16
bruery terreux : anaheim, ca
+ kelly whitaker : basta, boulder, co
sans pagaie + mortadella hot dog, pickled + salted colorado plum, napa cabbage
goses are red + aspen moon heirloom dutch butter popcorn, maitake furikake, smoked butter
table 17
steam bell beer works : midlothian, va
+ ian wortham : tavernetta, denver, co
double vanilla tiramisu stout + tiramisu, sponge cake, coffee, mascarpone, chocolate & coconut stout
wine barrel aged brett saison aged on lemon peel + anson mills farro, pork ragu, ricotta salata
table 18
helio basin brewing co. : phoenix, az
+ césar pita : rancho pescadero, baja california sur, mexico
blackberry wheat + yellowtail ceviche, stone fruit, pork rind dust, fermented habanero
autumn oak nut brown + mole madre
table 19
reuben's brews : seattle, wa
+ tomos parry : london, england
roasted rye ipa + grilled + braised ox cheek, onion, bone marrow, grilled sourdough, pickled walnut
nelson crush ipa + salmon tartare, barbecued cucumber, dill pickle
table 20
medusa brewing company : hudson, ma
+ kevin nashan : sidney street café, st. louis, mo
ghost lantern + crispy clam roll, hatch green chile aioli
no prison can hold me + short rib + horseradish pot pie
table 21
pinthouse pizza craft brewpub : austin, tx
+ nathan anda : red apron butcher, washington, dc
die in a haze 6: art of the haze + whipped 'nduja, pickled kuri squash, carta di musica
strange but not strangers + smoked lamb shoulder, almond hummus, cracked farro
table 22
odell brewing company : ft. collins, co
+ kyle mendenhall : arcana, boulder, co
barrel aged mountain standard + cured colorado pork heart katsuobushi, rob's colorado anasazi refried beans, dried oregano
green coyote + peach and poblano, pie crust crumble, mark's anise hyssop
---
2017 Paired Participants
Brewery
Restaurant
Chef
As of September 25, 2017 | subject to change

Purcellville, VA

Mercantile dining & provision

Denver, CO

Alex Seidel

Lewiston, ME

The Red Hen/All-Purpose

Washington D.C.

Mike Friedman

Lincoln, NE

The Granary

San Antonio, TX

Tim Rattray

Tampa, FL

El Moro Spirits and Tavern

Durango, CO

Sean Clark

Anaheim, CA

Basta

Boulder, CO

Kelly Whitaker

Buffalo, NY

Chicago, IL
Lamar Moore

Raytown, MO

Roadhouse Pub and Eatery

Jackson Hole, WY

Gavin Fine

Fayetteville, AR

Row 34

Boston, MA

Jeremy Sewall

San Diego, CA

Knife

Dallas, TX

 John Tesar

Phoenix, AZ

Rancho Pescadero

Baja California Sur, Mexico

Cesar Pita

Centennial, CO

Alla Spina

Philadelphia, PA

Marc Vetri

Hudson, MA

Sidney Street Café

St. Louis, MO

Kevin Nashan

Milwaukee, WI

Shift

Flagstaff, AZ

Joe Rodger

Ft. Collins, CO

Arcana

Boulder, CO

Kyle Mendenhall

Pullman, WA

Jax Fish House

Denver, CO

Sheila Lucero

Austin, TX

Red Apron Butcher

Washington, D.C.

Nathan Anda

Seattle, WA

London, England
Tomos Parry

Traverse City, MI

Beast + Bottle

Denver, CO

Paul Reilly

Midlothian, VA

Tavernetta

Denver, CO

Ian Wortham

Santa Cruz, CA

Band of Bohemia

Chicago, IL

Ian Davis

Vernal, UT

Nathan Miller Chocolate

Chambersburg, PA

Nathan Miller
Paired Sponsored By