Detailed information including specific festival keg collection points as well as the dates for dropping off your kegs are below.
Festival Keg Labels
Labeling your Festival Beers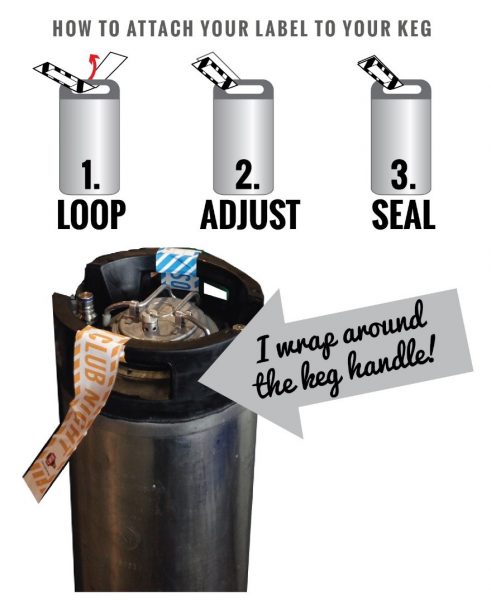 The Brewers Association will be supplying breweries participating in the GABF festival with Grogtags. This is to help our beer service team see brewery booth numbers and beer information more easily, especially when kegs are stacked in the reefer trucks.
You will receive the Grogtags in the mail in late August.
There will be one tag for every keg you indicateddropoff during registration.
Please fill out the style field on each tag.
Tags were not sent for case product. For case beer, you should tape the following label to each case you're are sending.
IF A BEER HAS CHANGED FROM THE TAGS YOU RECEIVED – 1. Notify Event Mgr. Chris Williams of the change (if you haven't already) and 2. Cross out the old name and write the new name in the "style" field (no need to add "style" for the beer if you're making this change)
The tags should be placed on the handle of your kegs. The tags are applied like luggage tags and fold over onto themselves.
Festival Case Labels
Please download the appropriate case label for the region your brewery is in in the festival, and fill out all required information and print IN COLOR so that our beer service crew knows where this beer needs to go. Attach it to your case beer product and bring to your drop off point with the rest of your festival beers. If you have any questions, contact Chris Williams at williams@brewersassociation.org or 720.473.7671
Festival Beer Case Label (All Standard/endcap Booth Case Beers)
Meet The Brewer Case Label (all Meet the Brewer Booth case Beers)
PRO-AM Beer Festival Case Beer Label
PAIRED Keg and Case Label – (Only use this if your brewery is participating in Paired)
No-Charge Invoice
Please complete this no-charge invoice and turn it into your drop off point when delivering your beers. Please also email a copy to williams@brewersassociation.org
Festival Drop off Points
Coming soon!