Detailed information including specific festival keg collection points as well as the dates for dropping off your kegs are below.
Festival Keg Labels
Labeling your Festival Beers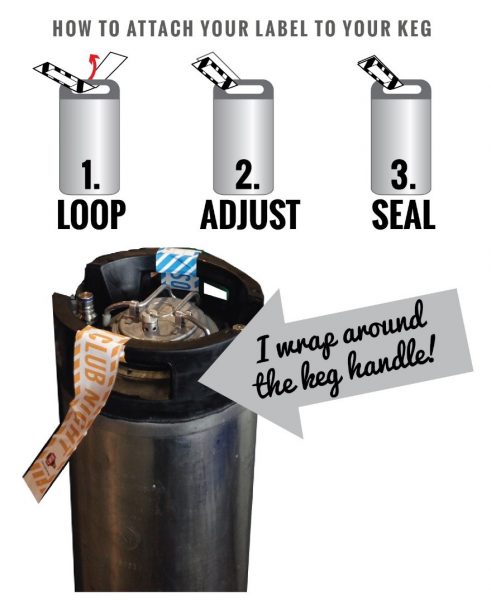 The Brewers Association will be supplying breweries participating in the GABF festival with Grogtags. This is to help our beer service team see brewery booth numbers and beer information more easily, especially when kegs are stacked in the reefer trucks.
You will receive the Grogtags in the mail in late August.
There will be one tag for every keg you indicateddropoff during registration.
Please fill out the style field on each tag.
Tags were not sent for case product. For case beer, you should tape the following label to each case you're are sending.
IF A BEER HAS CHANGED FROM THE TAGS YOU RECEIVED – 1. Notify Event Mgr. Chris Williams of the change (if you haven't already) and 2. Cross out the old name and write the new name in the "style" field (no need to add "style" for the beer if you're making this change)
The tags should be placed on the handle of your kegs. The tags are applied like luggage tags and fold over onto themselves.
Festival Case Labels
Please download the appropriate case label for the region your brewery is in in the festival, and fill out all required information and print IN COLOR so that our beer service crew knows where this beer needs to go. Attach it to your case beer product and bring to your drop off point with the rest of your festival beers. If you have any questions, contact Chris Williams at williams@brewersassociation.org or 720.473.7671
Festival Beer Case Label (All Standard/endcap Booth Case Beers)
Meet The Brewer Case Label (all Meet the Brewer Booth case Beers)
PRO-AM Beer Festival Case Beer Label
PAIRED Keg and Case Label – (Only use this if your brewery is participating in Paired)
No-Charge Invoice
Please complete this no-charge invoice and turn it into your drop off point when delivering your beers. Please also email a copy to williams@brewersassociation.org
Festival Drop off Points
DropOffPoint

DropOffPoint

DropOffDates

DropOffTimes

DropOffContactFirst

DropOffContactLast

DropOffAddress

DropOffCity

DropOffState

DropOffZip

DropOffPhone

Direct to Colorado/GABF Warehouse

Tuesday, September 4 – Friday, September 7

9am – 4pm

Mike

Aronson

587 S. Taylor Ave

Louisville

CO

80027

303-819-5338

San Tan Brewing Company

Wednesday, September 5 – Friday, September 7

M-F from 8 am – 4 pm

Gabe

Wilson

495 East Warner Road

Chandler

AZ

85225

(480) 720-1767

Bruery, The

Tuesday, September 4 – Thursday, September 6

8am – 3pm

Matt

Morris

190 West Crowther St.

Placentia

CA

92870

714-729-2330

Coronado Brewing

Tuesday, September 4 – Thursday, September 6

9am – 4pm

Shawn

DeWitt

5245 Lovelock St

San Diego

CA

92110

619-279-2803

Gordon Biersch Brewing Co

Tuesday, September 4 – Thursday, September 6

9am – 4pm

Kashwan

Reddy

357 E. Taylor St.

San Jose

CA

95112

408.792.1599

Track 7 Brewing Co

Tuesday, September 4 – Thursday, September 6

9am – 4pm

Victoria

Moreno

: 826 Professor Lane, Ste.100

Sacramento

CA

95834

9165204677

Cigar City Brewing

Monday, August 27 – Friday, August 31

Monday through Thursday between 7:30am and 3:00pm. Friday between 7:30am and 12:00pm. Please make sure the kegs do not go to the Tasting Room

Scott

Flint

3924 W. Spruce Street

Tampa

FL

33607

813-348-6363 x 218

Grand Teton

Wednesday, September 5 – Friday, September 7

9am – 4pm

Tracy

Williams

430 Old Jackson Hwy

Victor

ID

83455-5500

208.538.0068

Two Brothers Brewing

Wednesday, August 29 – Friday, August 31

9am – 4pm

Ted

Oetting

30W315 Calumet Ave

Warrenville

IL

60555

630-393-4800 x 1106

Free State Brewing

Tuesday, September 4 – Thursday, September 6

9am – 4pm

Brad

Scott

1923 Moodie Rd.

Lawrence

KS

66046

785-218-4688

Boston Beer Company

Thursday, August 30 – Monday, September 3

9am – 4pm

Jennifer

Glanville

187 Boylston Street

Boston (Jamaica Plains)

MA

02130

617-368-5232 or 617-368-5230

Bell's Brewery

Wednesday, August 29 – Friday, August 31

9am – 4pm

Alex

Ketels

8938 Krum Ave

Comstock

MI

49053

(269) 382-2338

Summit Brewing Co

Wednesday, August 29 – Friday, August 31

9am – 4pm

Stuart

Johnson

910 Montreal Circle

St Paul

MN

55102

6123068157

Olde Hickory

Wednesday, August 29 – Friday, August 31

9am – 4pm

Steven

Lyerly

#2 3rd Street SW

Hickory

NC

28602

828-850-0579

Canteen Brew House

Wednesday, September 5 – Friday, September 7

9am – 4pm

Zach

Guilmette

2381 Aztec Rd NE

Albuquerque

NM

87107

505-830-4629

Joseph James Brewing Co

Wednesday, September 5 – Friday, September 7

9am – 4pm

Kayla

Callahan

1051 Mary Crest Rd Suite K

Henderson

NV

89074

702-454-2739

Brooklyn Brewery

Thursday, August 30, Friday, August 31 and  Tuesday, September 4

9am – 4pm

Jon

Reyes

56 Berry St (between N. 10th & N. 11th)

Brooklyn

NY

11211

718-233-6640

Great Lakes Brewing Co

Wednesday, August 29 – Friday, August 31

9am – 4pm

Devon

Kelly

1947 W. 28th St.

Cleveland

OH

44113

216-771-4404 x236

Rhinegeist Brewery

Wednesday, August 29 – Friday, August 31

9am – 4pm

Mike

Rutter

1910 Elm Street

Cincinnati

OH

45202

(202) 427-4393

Sno-Temp

Tuesday, September 4 – Thursday, September 6

7:00 AM – 3:30 PM

Tre

Doublerly

310 S. Seneca Rd.

Eugene

OR

97402

541-343-1694 ext.  133

Yards Brewing

Wednesday, August 29 – Friday, August 31

9am – 4pm

Tim

Sieck

500 Spring Garden St (Docks on 5th St.)

Philadelphia

PA

19123

215-634-2600

Blackstone Brewing Co

Wednesday, August 29 – Wednesday, September 5

9am – 4pm

Chase

Wilkerson

2312 Clifton Ave.

Nashville

TN

37209

615-299-7815

Live Oak Brewing

Wednesday, September 5 – Friday, September 7

9am – 4pm

Myk

O'Connor 

1615 Crozier Lane

Del Valle

TX

78702

512.385.2299 ext. 3

Utah Brewers Cooperative

CALL FOR APPOINTMENT: Wednesday, September 5 – Friday, September 7

CALL FOR APPOINTMENT

8:00am – 2:30pm

Skunk

Anderson

639 south 600 west

Salt Lake City

UT

84115

801-466-8855 x231

Starr Hill Brewery

Wednesday, August 29 – Friday, August 31

9am – 4pm

Robbie

O'Cain

5391 Three Notch Rd.

Crozet

VA

22932

828-215-3503

Fremont Brewing

Tuesday, September 4 – Thursday, September 6

10am – 4pm, back side of the building on the corner of 8th Ave NW and NW47th St

Brett

Radke

4700 9th Ave NW

Seattle

WA

98107

206) 427-7402