---
2013 Public Tasting Schedule
The four public tasting sessions will take place in the Colorado Convention Center 14th and Champa Streets in downtown Denver, Colorado.
| | |
| --- | --- |
| Thursday, October 10 | 5:30 pm – 10:00 pm |
| Friday, October 11 | 5:30 pm – 10:00 pm |
| Saturday, October 12 Members Only Session | 12:00 pm – 4:00 pm |
| Saturday, October 12 | 5:30 pm – 10:00 pm |
---
How the Public Tasting Sessions Work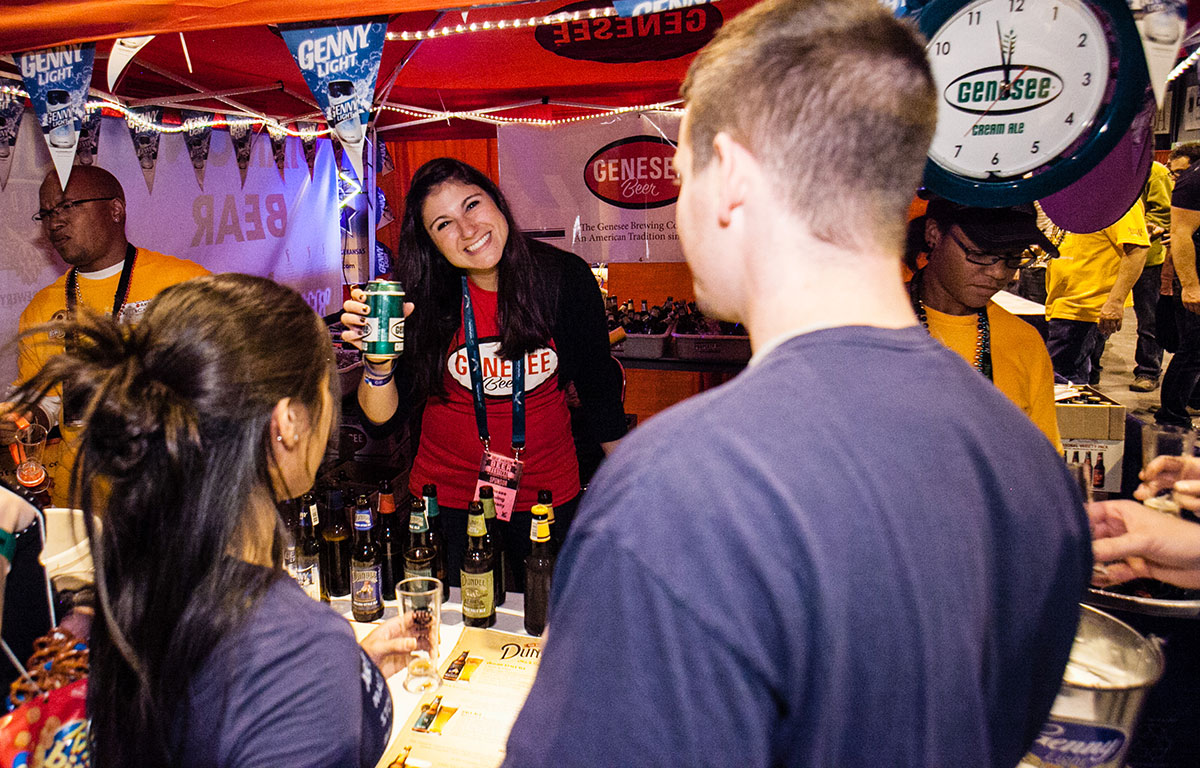 All participating breweries are arranged by geographic region throughout the festival hall. Your brewery has a booth space 6 ft. long x 10 ft. deep. If you submit draft beer to the tasting, kegs are tapped at the back of your booth space. Bottles and cans are iced in tubs and placed on a table at the front of your booth. Promotional items and pitchers of water for rinsing tasting glasses are placed on the table. A GABF sign, including the name and location of your brewery and the names of beers you are serving hangs from the drape on the back wall of your booth.
Festival attendees receive a tasting glass and a festival program when they enter. Each evening more than 10,000 attendees circulate among the booths tasting various beers. You, your brewery representative, or one of our knowledgeable volunteers will pour one-ounce servings and answer questions. We strongly encourage all participating breweries to staff their booth at all times, as many of the festival attendees like to learn more about their beer. We provide volunteers to pour beer at your booth. We require breweries to send an information sheet with a description of each of your beers so volunteers can be knowledgeable about the beers they are pouring and answer questions if you are not at the booth.
*PLEASE ASSIGN A BREWERY REP TO POUR YOUR BEERS AT ALL SESSIONS. We hear more and more from attendees how disappointed are when they can't speak with you about your beer. Plan to have a representative at your booth each session to talk to these passionate fans about your beers.*
---
Brewery Representatives and Badges
As part of the brewery registration fee, each brewery that has a booth at the festival receives badges for representatives to promote and distribute its products at the brewery booth. Badges are issued based on the number of beers entered for the festival hall.
No individual names are listed on the badges. Badges include brewery name only.
1 to 2 beers at the festival = Two (2) Complimentary Rep Badges
More than 2 beers at the festival = Four (4) Complimentary Rep Badges
The Brewers Association is dedicated to presenting GABF beers in a favorable light. Part of this plan is to provide a safer, more secure environment at the event for festival goers. Be sure that your brewery representatives are aware of and adhere to the ONE-OUNCE POUR RULE.
Entering breweries may purchase a maximum of six (6) additional BREWERY REPRESENTATIVE badges until August 14th or the festival sells out (whichever comes first).
Additional Badges are available at the time of registration for $175 each for Brewers Association members, $290 each for non-members. (Deadline has passed for to acquire additional badges.  9-18-13)
Breweries entering judge-only beers in the competition with no festival booth receive no complimentary Brewer Representative badges, but may purchase up to six brewery representative badges until August 14 or until we reach capacity and sell out (whichever comes first).
Badges provide access to all 4 sessions (Thursday, Friday, Saturday Afternoon and Saturday Night) of the festival.
Each badge has the brewery's name on it, and should be used by brewery representatives only.
Each badge is good for one person to enter the festival per session. A different representative from your brewery may use the badge for entry into the festival on the next day.
All brewery representatives are ID'd and wristbanded each day. Please plan accordingly and allow time to get wristbanded and ID'd onsite before entering the hall. 21+ only.
Purchasing additional badges is based upon availability and may not be available until the purchase by date if we reach festival capacities. If you want extra badges, order them during the registration process. You may cancel them any time prior September 14th.
The brewers badges are highly coveted items and we have seen some abuse of the system by a few. This includes attendees who have no affiliation with a brewery wearing brewery representative badges. We have also had abuse by a few brewery representatives selling or giving away their passes toward the end of the festival. If a brewery is caught giving away or selling their badge, they will not be allowed to enter next year's festival. Remember, the people wearing brewery representative badges are representing your company. The sale of brewery representative badges is prohibited and doing so will result in expulsion from the festival.
As part of our mission to educate the consumer about the quality and diversity of beer, the Festival highly recommends that at least one brewery representative be present in your booth at all times during the public sessions.
All badges are property of the Brewers Association and may be revoked at anytime.
---
Guidelines for Brewery Representatives
All brewery representatives must be over 21 years of age. No exceptions.
Promotion of your product must be maintained within the confines of your booth.
Brewery representatives must maintain sobriety while attending the Festival. Any brewery representative deemed intoxicated during the Festival shall be subject to ejection.
Brewery representatives must be appropriately clothed during the Festival. Any brewery representative who is clothed in a sexually provocative manner may be ejected from the Festival or requested to modify his or her dress at the sole discretion of the GABF.
Brewery representatives should at all times conduct themselves with appropriate decorum. Activities by a brewery representative that endanger Festival attendees, Festival staff or Festival vendors, or any activity which is contrary to Colorado law may subject the brewery representative or the attending brewery to ejection from the Festival at the sole discretion of the GABF.
Throwing items (i.e. shirts, cups, coasters, etc.) from the booth into the crowd is strictly prohibited.
Coasters & stickers are not allowed at the festival—please do not bring them.
Pour only one ounce of beer into attendees' glasses. There is a pour line on the glass for a reason.
Brewery representatives may pour themselves one ounce samplings. Please adhere to this rule.
All badges are the property of the Brewers Association and may be revoked at anytime.
---
Guidelines for Serving Beer
Consumers, brewers and volunteers may not have more than one ounce of beer in their glasses at a time.
Brewery representatives and volunteers will not serve any customer who appears intoxicated. Alert GABF staff or security personnel if anyone appears intoxicated.
Beer shall be served only from behind the tables in the booth space.
In the spirit of the Great American Beer Festival we ask that your brewery representatives adhere to these guidelines. Failure to do so will result in warnings and/or expulsions of your brewery or representatives.
---
Draft-Beer Tapping Options
The Great American Beer Festival ices, taps and pressurize sall draft beers sent in Sankey kegs. You can either take advantage of our tapping service or provide your own equipment. If you choose to tap the beers yourself, you must provide all equipment necessary (faucets, taps, lines, CO2, etc.). If you send Golden Gate or Cornelius canisters, you are required to tap your own beer. The GABF provides keg containers and ice. The festival is not able to accommodate any Hoff-Stevens, Golden Gate, Cornelius kegs or two-way plastic kegs.
All beer entered in the festival must be delivered to the GABF host distributor for legal and inventory purposes. According to Colorado state liquor codes. Festival beer received by the host distributor becomes the property of the host distributor for GABF and may not be used for any other purpose. The GABF only accepts kegs in stainless steel or one way plastic kegs. Kegged beer sent in any other format will not be served at the festival.
---
Displays and Promotional Materials
Each brewery or brewing company is provided a table 6' L x 30″ W x 29″ H with an 8' ft. high drape located directly behind the table for brewery displays.
All wall displays must be less than 6 ft. long x 4 ft. high.
Table displays must be less than 3 ft. tall x 3 ft. wide.
The GABF is an event designed to educate consumers about the quality and diversity of beer in America. With this in mind, the GABF expressly prohibits the use of profanity on display items, and the use of sexual references on display items is not recommended. The GABF may, at its sole discretion, request and/or require the removal of any display that makes inappropriate sexual references.
Brewery displays may not hamper the flow of traffic behind the booth.
No Coasters – Flying coasters have become a problem at GABF and are now prohibited.
No displays taller than 10 feet in height.
Tents – these encroach on your neighbor's space and are generally not allowed. If your tent stays in your designated area (6 feet wide) you may use one.
The GABF is not responsible for lost or stolen items.
Promotional items may only be distributed free of charge.
Promotional items cannot be thrown from your booth!
Neon signs are only allowed at end-cap booths.
Complimentary promotional items may be distributed to attendees, however, please note that the cost of removing brewery labels and stickers found on Colorado Convention Center windows, mirrors or other surfaces will be charged directly to the brewery.
The use of profanity and/or inappropriate sexual references on promotional items or goods sold at the merchandising booth is prohibited, at the sole discretion of the GABF staff. If you have any questions regarding displays or promotional materials, please consult the GABF staff prior to the Festival.
---
Festival Flair Award
The GABF invites all breweries to decorate their booth as we award a prize for the brewery booth with the most festival flair. We ask breweries to turn on their festive spirit and craft the most creative booth on the festival floor. The booth with most festival flair is awarded a plaque at the awards ceremony and a certificate for 5 complimentary entries into the next GABF. There is an award for best end-cap booth and best in-line booth. Breweries must bring all of their items to decorate with them. If you are not driving to the festival, we suggest shipping your decorations to your hotel room.
---
Designated Driver Booth and Volunteers
Each year, designated drivers have the ability to enjoy some non-alcoholic craft brewed products. If your brewery makes non-alcoholic root beers or sodas, we would appreciate your donation to the designated driver lounge. Email williams@brewersassociation.org to donate non-alcoholic beverages.
Did you know that the GABF is home to over 2,000 volunteers who devote countless hours to helping make this festival run? We like to reward these hard working volunteers with a sampling of beers from across the country. If you would like to donate some extra bottled beer for the volunteers, please email Chris Williams at williams@brewersassociation.org and send this extra beer with your festival beers at your drop off point. Clearly label this as "Volunteer Beer."
---
The GABF Program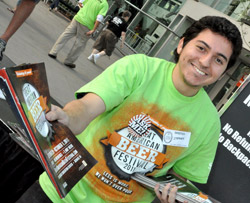 Attendees receive an official GABF program containing information about the festival as well as your brewery information. Your information includes: brewery name, address, city, state, zip code, website, booth number, and your beers at the festival. If your brewery is 25% or more owned by another brewery, that information is also be listed in the program. Your listing will also identify your brewery as a:
Brewpub
Brewpub + packaging
Packaging or
Contract brewed
It will also identify Brewers Association members as either a:
Voting member of the Brewers Association
Associate member – all other brewery members